Teaching artificial intelligence to perform complex mathematical calculations is complicated, but it is much more difficult to teach these intelligent systems to recognize different odours. Intel is working with Cornell University to achieve this technological milestone.
The effort of this research does not seek to launch into the world thousands of robots that are dedicated to smelling flowers but could help detect dangerous chemicals. Detection by the smell of weapons, explosives or drugs could be entrusted to machines instead of putting the lives of security officers and their police dogs at risk.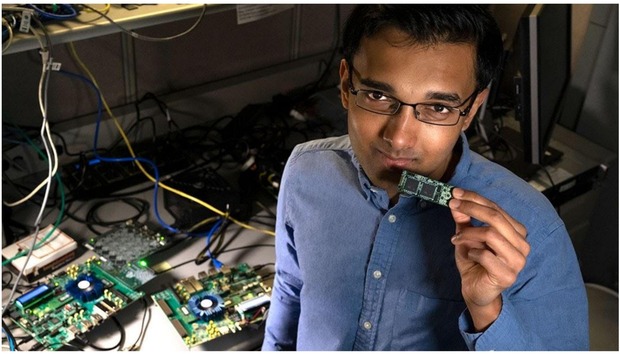 Intel and Cornell University have claimed in a study published in the journal Nature Machine, that its neuromorphic chip is capable of learning and recognizing the aroma of at least 10 dangerous chemicals.
The report indicates that the level of precision achieved by the chip is extraordinary. The researchers assure that the rest of the machine learning solutions need up to 3,000 more samples than this chip to train and achieve the same recognition result.
The chip is known as Loihi, and the company has long worked on it to mimic the human brain. This chip groups more than 2 billion transistors and
130,000 artificial neurons
. A total of 64 chips based on the Loihi prototypes are equivalent to the calculation made by 8 million human neurons.
Intel claims that its creation is 1000 times faster and 10,000 times more efficient in information processing than conventional processors. What's more, the researchers describe the chip using data from more than 72 chemical sensors.
As we said at the beginning, this work would take us to a society in which machines could serve as a support for detecting weapons, narcotics, and even diseases, and this is how Nabil Imam, a research scientist at Intel explains: "This work is an excellent example of contemporary research at the crossroads of neuroscience and artificial intelligence and demonstrates Loihi's potential to provide important detection capabilities that could benefit diverse industries "
However, Intel is not the only company working to artificially recreate the human brain and give robots a sense of smell. The Google Brain team is also pursuing this goal, they have created a dataset of nearly 5,000 molecules identified by perfumers, who labelled the molecules with descriptions ranging from "buttery" to "tropical" to "weed."