As we have been saying over the past few weeks, the situation of global confinement caused by the expansion of the outbreak of the COVID-19 coronavirus is making possible a boom in video call platforms, whether simply to maintain contact with family and friends, or for work reasons, enabling teleworking with other colleagues who are in different physical locations.
Unfortunately, the advancement in the popularity of the Zoom and Houseparty platforms have been accompanied by scandals and privacy problems, as we discussed yesterday, where we suggest some alternatives, which we are now going to expand a little more, all with the focus put in respect for the privacy of users.
Without more, we will detail a little more the options that best respect the privacy of users.
Signal:
Obviously, this alternative messaging service to WhatsApp could not be missing, recommended by Edward Snowden himself, belonging to the Open Whisper Systems foundation, which for three years now has had a secure video call function, with end-to-end encryption.
To make use of this function, we simply have to go to the contact with whom we want to talk, and instead of sending them text messages, we press the phone icon and then the camera icon. The contact can accept the call even from the lock screen.
Jitsi Meet:
This is the 8 × 8 Inc option that allows video calls to be made with multiple participants, up to 75 maximum participants, for free, and which is also open-source, so those who wish to do so are allowed and facilitated possibility to install it on your servers (you have to have the certain technical knowledge and specific server specifications for it) instead of using the official server of the service.
Its use, at the user level, is quite simple, allowing both creations with access to rooms without the need for user accounts. The bad thing is that in the rooms, which by default are open, anyone could, so the creators can also protect them by a password.
In addition to having its application for Android and iOS, it can also be used directly from a desktop web browser. In addition to video and audio call functions, it also has text chat, bandwidth reduction, and some more functions, allowing its integration with Slack, Google Calendar, and Office 365.
Whereby:
It is a freemium option, with a free option with very limited capabilities, which allows you to create video chat rooms, each with its own URL. Within video calls, you can also send text messages, screen sharing, or even basic user management functions.
The free version allows creating a single room in which a maximum of four people can participate.
Marco Polo:
Although this option does not respond to the concept of video calls in real-time, with one or more participants at the same time, its concept of operation is interesting, as it allows sending video messages instead of text messages, something like this. like WhatsApp but on video.
In this sense, users will be able to send video messages and reply to them either instantly or at any other time, they may have available. Its philosophy is based on people being busy, so there is no need to be available live to view video messages and respond instantly.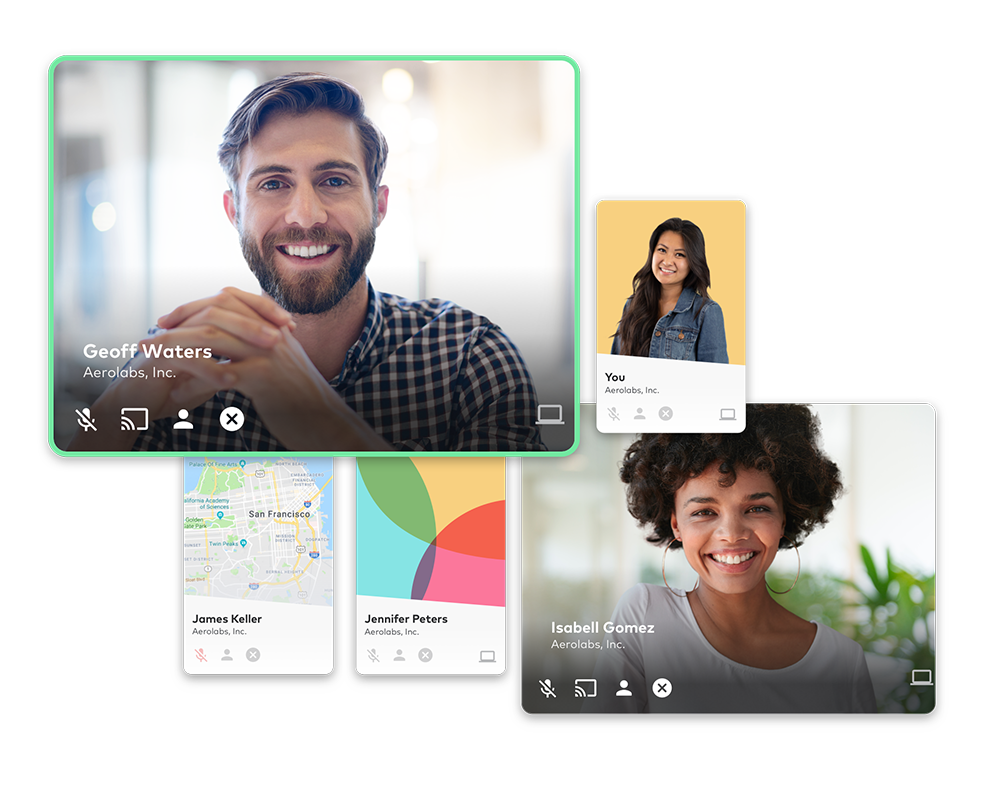 This platform allows you to create groups of users, and within them, participants can send their video messages and view the feed of video messages sent by other users, a feed that is certainly available in a horizontal format.
This platform indicates that they do not sell or transfer user information to third parties.
These four options have their corresponding mobile applications for Android and iOS on the respective official application platforms.