The web version of Apple Music has finally come out of the beta version and its stable version is now available for any user who wants to access it without the need to install any application.
The beta web version of Apple Music was released in September 2019, and to date has not come out of this version. Now the new address to be able to test Apple Music on the web is the following, and through it, you will enter a screen where you have a menu on the left with the "for you", "explore" and "radio" sections, and in the area of ​​the central window the list of the songs that we look for.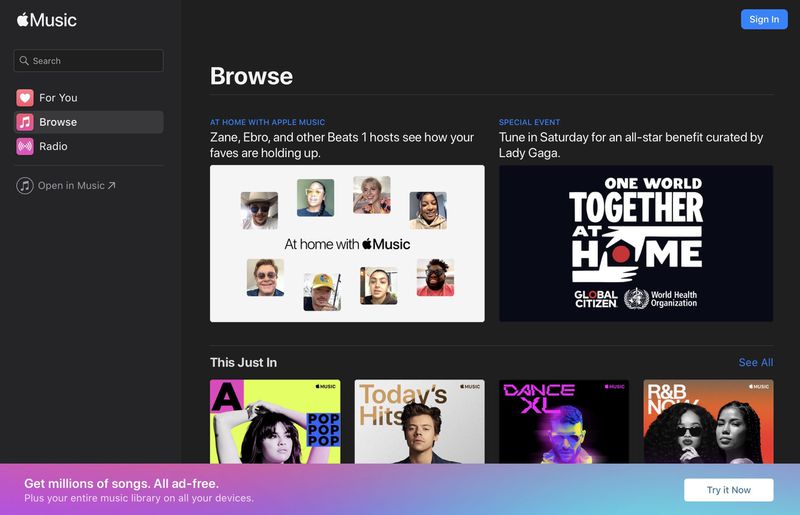 The page is quite intuitive and even allows us to search for a song and play a 30-second preview without being registered, although we can also use the free trial to enjoy this service as usual on music or video streaming platforms.
If what you want is to access your own playlists and your favourite songs, what you require is to log in with your Apple ID and also, obviously, have an active subscription to Apple Music. The web version of Apple Music is practically traced to the desktop application, so if you have been using it before, for example, on your Mac, you already have a lot of gained ground.
With this change,
Apple Music is already at the same level as Spotify web, although perhaps the radical difference between the two services is that Spotify has a free account that allows y
ou to listen to several hours of music monthly for free, compared to Apple Music that It only offers you a 30-second preview on the topics.
In any case, if you are an Apple client, likely, you have already tried Apple Music before, and now you can also open the application on the website itself, which will make it easier for you to have your music accessible in a greater number of places.