Some pots change your life (a little bit). The potato peeler or the rear proximity sensor of the cars, without going any further. Of all those who have come to my life, there is one that sweeps them all off the map.
This is the NAS that I bought in 2012 and that has become a fundamental part of all work and leisure in our home. If you do not know them, pay attention, because these network hard drives are an absolute prodigy that will make you wonder about that "how could I have lived without it?". Or almost.
Your private cloud
Then I had it in my other blog: I had been doing experiments with a Raspberry Pi as a download server but that was not going smoothly.
By now I had read and written quite a bit about those network hard drives are known as NAS (Network Attached Storage), but I had never had a chance to try any, so I went on an adventure and bought one.
The truth is that the product seemed almost made with me in mind. I don't like relying on third-party cloud services and I wanted to have a product that was always available and always connected so I could copy data from it and into it with any of my PCs and laptops.
A NAS is just that: a device that is always there for you, whether you are at home or away from home - although that, as I will discuss later, has its that.
A NAS is your particular cloud, and the name of this type of products is unfortunate: they are much more than network disks because in addition to storing all kinds of content they can act as a download, development, mail, multimedia servers, VPN, web server, chat, etc.
This is not just about saving files
At that time, I opted for a two-bay Synology DS212j - today the option would be the DS220j -, in each of which I connected a 3.5-inch 2 TB SATA hard drive. Having 4 TB of network storage was then wonder, and today those disks continue to hold the pull although, yes, I usually have more than 90% of the capacity of the occupied NAS.
You can set up your alternative to Gmail, Dropbox, Google Photo, Netflix, or create and host websites there that you can then make public and that can be based on platforms such as Magento, Wordpress, or Drupal.
Most NAS manufacturers offer their app stores for these devices so that you can install those packages and use them to provide the services that best suit your needs.
In my case, the use has been relatively discreet: I use my NAS as a storage center for the whole house, not only for data backups that we already have on other computers but as a destination for many data that I work with daily. I use services such as Dropbox or Google Drive for specific topics and to work with Google Docs documents, for example, but the NAS is the absolute protagonist in that workflow.
Of course, the other big section in which the NAS is the protagonist is in entertainment: the movies that I had on DVD and the music that I had on CD and that I have been acquiring in digital format have ended up on that network hard drive.
It is a somewhat heavy task at first, but of course, the comfort it provides afterward is spectacular: the NAS, I insist, is always available so that we can access these contents, for example, from the small mini PC connected to the TV with Kodi that we have in the living room.
Google Photos and iCloud? Nahhh
The same goes for photos: although I recognize that services such as Google Photos for Android mobiles or iCloud for iPhones have many advantages and that has made them the norm for users, I prefer not to use such services.
I use several backups on local and external hard drives (which I have at the home of relatives, for example), and of course, I have everything centralized on the NAS, where the photos of the mobile are synchronized with an official application called DS Photo Station, which includes a backup system that I can control in detail and that frees up space on the mobile if I need it.
The services of Google or Apple (there are other alternatives, of course) do extra work to organize photos simply, create automatic videos from the photos of a trip or an event and allow access to advanced searches.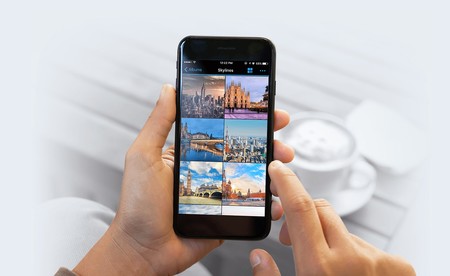 We do not have that by default on the NAS, but it is possible to access some of those features if the user is willing to spend some time on the subject. Various photo managers allow, for example, applying facial recognition to search for photos of a person, although the organization of places or events is usually the responsibility of the user.
For example, I am creating folders that group the photos of those trips or events, I mark as favorites or I label those that I want to have more located. It's a time-consuming subject, but it allows me to revisit those photos — something that otherwise wouldn't do much — and enjoy those memories again, and then have them even more within reach.