After the presentation of the Galaxy Unpacked where we met the Galaxy Note 20 and 20 Ultra, Galaxy Tab S7 and S7 +, Galaxy Watch 3, and Galaxy Buds Live we have been able to test the complete ecosystem for several days and that they can be purchased in Spain.
Today is the turn to meet the Galaxy Buds Live, headphones that stand out for two important changes compared to the previous generation, their design, and the inclusion of active noise cancellation.
A bold and courageous design
The most striking aspect of the Galaxy Buds Live is its design, and that is that they are completely different from any other headset we have seen. This design, from its first leaks, showed us a kind of bean shape, to the point that many in the community popularly call them Galaxy Beans.
Samsung's effort in design has not been as simple as "let's imitate the shape of a legume and see what happens", but has been the result of an exhaustive search for the perfect form factor, in a design that has gone through more than 320 models with three main objectives:
A unique form factor: The Galaxy Buds Live has no doubt a new design in the headphones. This design is not limited only to its bean appearance, but to its characteristics.
These headphones have a double speaker and a single rubber, which is designed to provide a bit of support in the shell of the ear. We also appreciate the sensor that can identify if we have the headset on our ear or not.
Maximum comfort: These headphones are designed to offer a firm hold, but at the same time be as comfortable as possible. At first, it is a bit difficult to understand how they are put on (unless when you pair them for the first time the Galaxy Wearable application explains how to do it, I would have had no idea) but once they are in, the feeling is great.
A square case for jewel-like headphones: For Samsung, these headphones are a stylish device and they want to carry this experience even in the charging case, which is quite compact. It does its job and, in effect, reminds us of a jewelry box.
Beautiful colors and eco-friendly materials: The appearance of colors is perhaps the most subjective to see. Samsung here has opted for white, black, and Mystic Bronze, the new color of the Samsung line, and the one that attracts the most attention. On a personal level, I don't like the style very much because I have opted for bright tones and I would have preferred matte colors, but this type of choice cannot satisfy us all equally.
On ecology, the Galaxy Buds Live is designed to reduce environmental impact by using 20% ​​recycled materials. We think it is good that Samsung boasts of it and we hope that little by little this percentage will continue to rise as much as possible.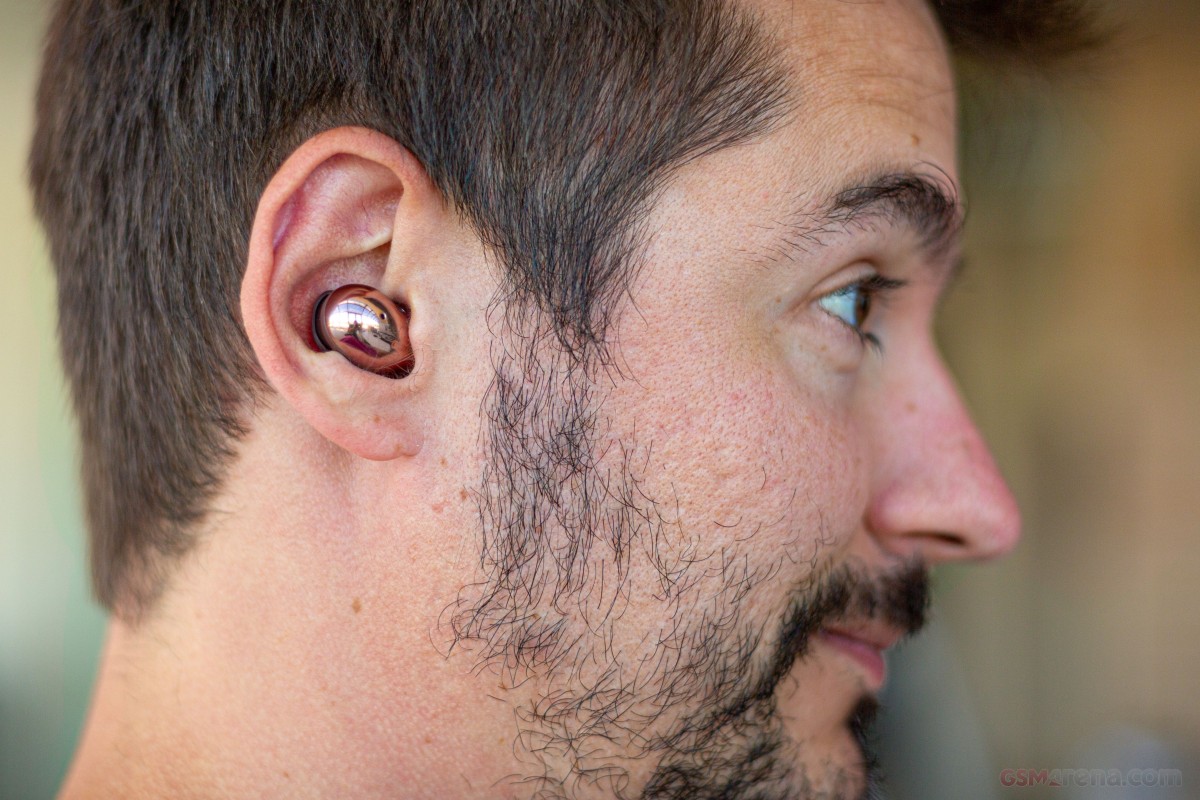 Something that we did like about their eco-friendly appearance is the ease of repairing them ourselves. A defect of this type of headphones is that over the years the batteries are depleted, and with this level of miniaturization it is not always possible to open them and change the batteries to continue using them for years. From the first Galaxy Buds, Samsung has stood out at the internal engineering level for its ease of repair, and with this ambitious design, we feared they would have been put aside. This has not been the case, and it is noteworthy.
The Galaxy Buds Live, valued as headphones
The sound quality signed by AKG is excellent, as the sound manufacturer has become accustomed to us. These headphones each have a double speaker and the sound experience is very immersive, which makes them especially enjoyable when watching a movie or series. Thanks to the equalizer, we can personalize the experience better to the type of music we listen to.
In terms of battery, Samsung promises 6 hours per charge and two full charges per case. In our day to day, with noise cancellation deactivated and moderate sound, we have been able to pass the band with solvency, although when we give it more power and active noise cancellation it has remained in about 4 hours. It is practically half that of the Galaxy Buds +, but it is understandable given its small size.
Active sound cancellation is like it doesn't exist if the headphones don't properly cover your ear canal. In these two weeks, I have been able to test them with several people and the general conclusion is that: that technology works great as long as they are well covered. And not wearing rubber for the ear canal is very complicated.
To experience it and make it functional, on my occasion I had to put the headphones under pressure, making them lose all possible comfort. This is a personal appreciation and depending on the ear of each one it will adapt worse or better.
An important absence is that of the ambient sound that the Galaxy Buds + included, here we will not be able to hear the sound around us better. I have not missed her much either because by not completely covering my ears.
Application and software
To get the most out of the Samsung Galaxy Buds Live you must download the Samsung Wearable application. Although you can enjoy the headphones without installing the application, its behavior will be that of a few more wireless headphones, while installing the application increases the possibilities. The application comes pre-installed on Samsung mobiles, but it is compatible with Android and iOS mobiles (Samsung Labs functions are not available on iOS, that is).
Check the battery level of each earbud and that of the cases.

Access the built-in equalizer.

Customize the touch and hold gesture on each earbud to enable or disable the following features:
Active noise cancellation.

Voice commands.

Decrease or increase volume (the left to decrease, the right to increase).

Direct access to Spotify music.
Activate or deactivate Bixby (an exclusive function of the Samsung Galaxy).

Enable or disable automatic headphone connection.

Samsung Labs:
Gaming Mode - Dramatically reduces latency to be able to use headphones when gaming.

Relieve pressure with ambient sound.
Loaded with amenities
One of the factors that I like the most about the Galaxy Buds Live is their comfort when charging them. They have a USB C port that I honestly have never used since they have wireless charging. If you already have a Qi charger at home for your mobile you can use that same charger to charge the headphones. Anything fewer cables are better.
If you have a Galaxy S10, S20, Note 10, or Note 20, you can take advantage of Wireless Power Share technology to charge the headphones by simply leaving them on top of the mobile. An added value if you have any of these mobiles.
The Galaxy Buds Live has a feature that makes them very comfortable to use in a world in which we have several devices, and that is that they remember very well the equipment in which they were paired. In my experience, I usually have problems with Bluetooth headphones when I pair them with my mobile, then with my computer and I want to use them again with my mobile. This situation where you have
Integration with Samsung devices is even better. At the time I paired the Buds Live with the Note 20 Ultra (a process that is also intuitive when a popup appears ), the pairing was also done with the Galaxy Tab S7 and the Galaxy Watch 3. All devices linked to the Samsung account sync and only have to be paired once.
And, contrary to what was previously the case, the Galaxy Buds Live no longer require that they are linked to only one device in the Galaxy Wearable app. In all the devices that you have the application, you will be able to manage the settings and update the software. In devices that do not have the application, they will simply work as one more Bluetooth headset.
Conclusions: excellence and ANC only if it suits your ear
As a personal assessment, my completely wireless headphones are still the Galaxy Buds + we reviewed a few months ago. At the time it seemed to us that its only weakness compared to its direct rivals was active noise cancellation, but as the months have passed I have discovered that this technology is completely useless for me, at least when it comes to TWS headphones.
It is not that technology is useless by itself, but because for it to work properly it is necessary that the headphones completely cover your ear canal. In over-ear headphones, I don't usually have problems and it's excellent, but it seems that the morphology of my ears is incompatible with this type of headphones. These kinds of evaluations, in the end, are not a universal truth that applies to everyone, but the same premise applies to assume that noise cancellation will work without knowing how it will adapt to the ear.