The LG company has put on the table its most powerful mobile of the year and, while it is not comparable to the top ranges of other companies we are looking at a very balanced mobile and with some other unique feature.
What is the LG Velvet like? Finally, we have what we can call the first smartphone of the new LG era, beyond the G and V ranges that lately had become somewhat confusing in front of the user.
It is a high-end smartphone in terms of specifications although it has quite a few high-end brushstrokes such as a 6.8-inch OLED display or IP68 water resistance, among others.
It's a mobile that doesn't fight in the league of over a thousand euros in which we see mobiles like Samsung's new Note 20 or Sony's Xperia 1 ii among others.
It had an official market price of 699 euros although it can already be purchased for about 100 euros less, and for that price, it does have a market. But first of all, let's see what this LG Velvet is like.
Big screen and nice design in a contained weight
LG wanted to give the LG Velvet a personalized touch in terms of design. It moves away from what we're seeing in other brands with front cameras inside the screen or huge camera modules on the back.
However, it does have a glossy finish, in glass, very elegant that together with the curved design on the sides of the screen gives it a premium touch that we see in top range mobiles. The theme of the gloss finish is nice, no doubt, but let me see prints of use too little that you use the terminal.
At that rear, we have a 48 Mpx camera module that protrudes slightly while the wide-angle camera and the camera that serves as a distance calculation assistant are integrated into the body.
If you look at the top of the device we find the nanoSIM card tray, it is compatible with 5G networks, and on the opposite, the lower one is the USB-C port, the main speaker, call microphone, and, something interesting, a headphone jack.
LG integrates the volume controls on the left side and under them a button to launch the Google Assistant. The power button is located on the right side of the power button.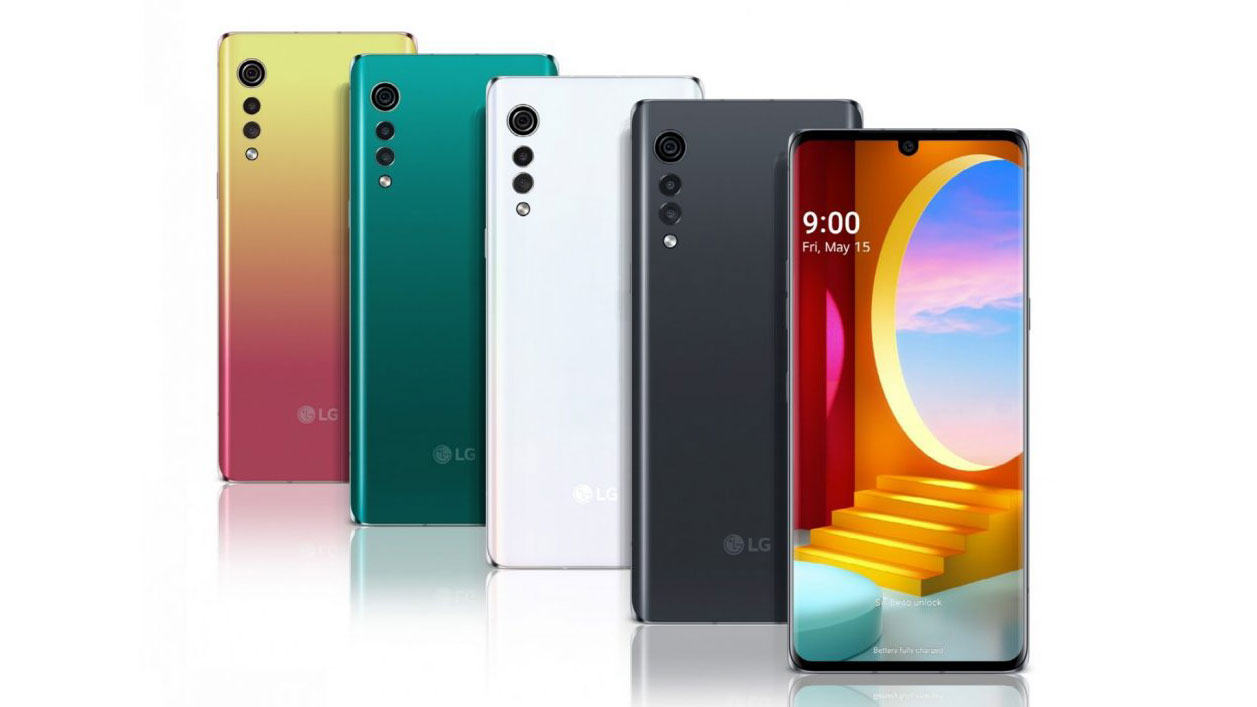 It is a large mobile, very large and is that the screen of 6.8 inches in 20.5:9 format leaves no other option, we have a mobile 169mm high very similar to the Galaxy Note S20 Ultra.
However, the design that curves the back on the sides as well as on the sides of the screen makes it very comfortable in the hand.
The corners of the screen are rounded not so the corners of the mobile that feel slightly softened but have not taken care as much as the rest of the terminal.
One thing that has hit us during the analysis is that for how big your screen is and the terminal in question is a fairly light mobile, since not only does it not reach the 200 grams barrier that we have seen pass to other rivals but it stays at a modest 180 grams.
OLED 6.8-inch FullHD but behind the 2020 trend
If there is one thing LG has been polishing for years is OLED technology, in fact to date they are the big manufacturers of panels of this type for TVs. It is clear that this mobile mounts an OLED panel of no less than 6.8 inches and is a positive point to be mobile between 500 and 600 euros, but falls behind trends of 2020.
The OLED panel that mounts this LG Velvet has a diagonal of 6.8 inches in 20.5:9 format and the company has dubbed it Cinema FullvIsion Display. It has a FullHD+ resolution of 2,460 x 1,080px and that gives an equivalent pixel density of 395 dpi. It supports HDR content.
As we see it is a large solution to which we have to add that its design curves the panel slightly on the sides which makes the final design of the terminal more compact.
It is not a solution that pleases all audiences but, in our opinion, achieves greater ergonomics on day-to-day life and makes the feeling of use more immersive in general. It is true that sometimes and games, some elements are located in the area of the curve and it should be noted that the sensitivity is somewhat lower in that area.
In terms of panel calibration and display modes, we are looking at a display that offers a fairly dignified serial calibration.
You can also choose several image modes: natural, live, cinema, or customizable where you can give that fine adjustment to it both at the color and temperature level of the same.
LG has also integrated the option to use a filter to make the screen emit less blue light, also known as night mode on other mobiles, that we can turn on or off and even program according to hours, to taste.
Snapdragon 765G, good balance, and wise choice
This point is another one where we see how LG has achieved the optimal fit to be able to reduce the price of the LG Velvet. Instead of betting on Qualcomm's most powerful, the Snapdragon 865, LG has decided to take a step back and has chosen the Snapdragon 765G chip that continues to offer native 5G connectivity.
Although it is not the most powerful chip on the market it is more than solvent for most tasks of an advanced user and even to some extent gamer.
In fact, here we leave the differences with the Snapdragon 865 in terms of configuration and the difference in performance is remarkable but it is also noticeable in consumption in general in the day to day and that is where we believe LG has made its decision.
Performance in games and benchmarks puts you up to the task of other mobiles with Snapdragon 765G such as the Xiaomi Mi 10 Lite, one of its great rivals.
LG has also not opted for the fastest memory for the Velvet and has mounted UFS 2.1, 128GB memory that you can expand with microSD cards, that's for sure.
However, the day-to-day performance of this memory is fine, we are talking about a maximum transfer rate that exceeds 400 MB/s and will not be a time-limiting factor in most scenarios compared to top smartphones.
However, one thing LG has to work on is to lighten its software layer and it is something that does penalize the feeling of performance since we have noticed some lag at certain specific times due to animations.
Android 10, yes, but with bloatware and too much customization to be 2020
The holder of the paragraph leaves no doubt but we do have to make some clarifications. LG is one of the companies that continues to offer a remarkable layer of customization compared to what Android Stock is. However, it should be noted that the version after version continues to improve and lighten it.
With the LG Velvet, we have a software version that works on Android 10 and integrates native features of it such as Material Design, native gestures, customizable notification bar, among others.
LG adds extras that, if not always optimal in terms of performance, sometimes they do add value. An example of this is the volume control and sounds of Android and the extra possibilities against Android stock and is that here you can see something that LG mobiles stand out on, their care for the sound.
But let's keep talking about the software as there are many things to comment on, such as the pre-installed software, mostly bloatware that does not bring anything to the user. It can be removed, however, but the only thing it does as standard is to occupy internal memory.
Camera at the height of the circumstances, mid-range-premium
LG has not gone crazy when it comes to integrating sensors into mobile and is that we see how in the back we have the main sensor of 48 Mpx f/1.8 that gets photos of 12 Mpx by pixel binning and also offers the option to capture with full resolution. It is accompanied by an 8 Mpx wide angle with a 115o FOV and an auxiliary sensor to support the background blur.
We see how LG has decided not to bet on a telephoto sensor and it is something that, to some extent, detracts from the versatility of the Velvet solution. The front camera features a unique 16 Mpx sensor.
What is the camera app like? Here LG has years of experience and is something you can tell. There are advanced options such as portrait mode always at hand, support for manual mode focus with pixel peaking, a shortcut for switching between principal camera and wide-angle, or, for example, direct integration with Google Lens.