Facebook Inc. has just officialized Oculus' new Standalone Virtual Reality goggles, the new Oculus Quest 2, successors to the original Oculus Quest, even though a few days ago all the specifications of this new device escaped.
According to explain, the new Oculus Quest 2 is Virtual Reality glasses with a lighter all-in-one form factor, with a weight reduction of 10%, but also more powerful, costing $100 less than the original Oculus Quest, remaining from $299 (349 euros) for the 64GB RAM version, and whose general availability will begin on October 13 through different retail partners in different markets, reaching Japanese retail stores for the first time.
Interested parties can now place their pre-orders.
Regarding power, it boasts improved performance thanks to the integration of the Snapdragon XR2 processor, accompanied by 6 GB of RAM and up to 256 GB of internal storage, a much more solvent configuration than that of the original Oculus Quest.
There is also a special mention to the quality of the screen, with 50% more pixels than the original Quest, offering a resolution of 1832 x 1920 pixels per eye.
But also, this display supports a refresh rate of 90Hz, offering input a series of experiences under this refresh rate, under the promise of allowing shortly after its release that all developers can create their own experiences under 90Hz.
This model also features an interpupillary distance adjustment mechanism, which allows users to adjust the lens for better visual comfort.
On the touch controls, they indicate, they have been based on the original design for the launch of new touch controls with ergonomic improvements, with more efficient tracking capabilities and better battery life.
With the new Oculus Quest 2 come several optional accessories, including straps and other elements, to improve the comfort of using the device itself according to the needs of the users.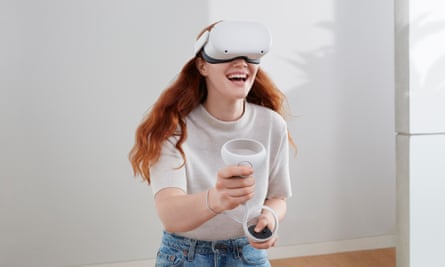 And taking advantage of the presentation of the Oculus Quest 2, Facebook Inc's division for augmented reality further announces that they will focus on independent virtual reality headsets, the original Oculus Quest will be withdrawn from the market with the arrival of the Oculus Quest 2 in the market, still maintaining support, and that by 2021 sales of the Oculus Rift S will end, although the Rift platform "will continue to grow while delivering high-end PC VR experiences".