10 years ago we dedicated an article to WebMii, a directory of people that allowed access to a series of public information on the web about a contact, through a search done only with their name.
Since then to date, several things have changed. The platform works differently from its best years and in addition, the spectrum of alternatives has been nurtured over time.
WebMii, before and after
Until last year, WebMii worked in English, French, and Spanish. In addition, your search results could be filtered by country, with 34 different options to choose from.
In parallel to the main purpose of the site, other instances could be used, such as the creation of user profiles (with personal page included), a "wall of fame" that highlighted users with greater visibility on the web, and a series of rankings, which grouped Internet influencers into various categories.
The current WebMii rescues some elements of its predecessor version, such as the evaluation of the level of public exposure with a score scale and the type of information it presents, ranging from social media profiles to related search keywords on the web. However, essential functions, such as the translation of the site into Spanish; other advanced tools, such as filter by country; plus their social functions, such as the aforementioned profiles, rankings, and their hall of fame, are no longer there.
According to its presentation, WebMii collects only public information and by displaying the results of a search, it properly points to the source. Unlike the concept that made this utility popular, today they are profiled as a tool for personal use, in which each person can consult their own information, to see how exposed it could be on the web.
Alternatives to WebMii
When navigating through the search engine options of people that exist on the web, it is common to come across tools totally focused in the United States. If that's what you're looking for, you can count on services like ZabaSearch, Spokeo, and PeekYou, all in English and with the possibility to apply some filters on their contents, either according to relevance, state of origin, or other criteria.
A more complete tool is Pipl, which is paid for but allows access to many of the missing features of the old version of WebMii.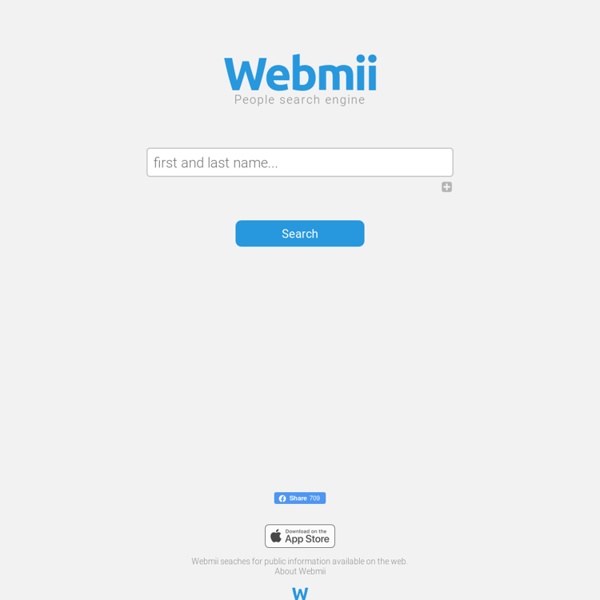 Another option, something different by the limits of its scope, is Family Search. It is a free and Spanish tool that allows you to track your family tree. Searches can be fine-tuned by pointing to additional data, such as the home city or contact phone.
Using the phone number to fine-tune searches, This Number allows you to locate people through your directory, which unifies more than 600 phone books from different parts of the world.
If you want to know news from a distant family member again or trace the present to a childhood acquaintance, this selection of tools could help. Some might be used to get better results than others, but that will depend on the terms of the search in question and the geographic location of the search.
The amount of data that can be found on one of the Internet is abysmal. Therefore, for more specific purposes, such as searching for a particular person, it is practical to have tools complementary to a simple web search.