A beautiful painting on the wall is an element that always fits into a room, regardless of the style in which it is decorated. It is a resource that never goes out of style and looks good even if we change some furniture or other elements.
LG has taken into account the great decorative value of works of art, and that is why it has been inspired by them when designing its new TV. The range With Gallery Design it is designed not only so that you can enjoy the image quality of the OLED panels, but also to dress the wall of your living room with your favourite works when you are not watching the TV.
The new LG Gallery Design TV eliminates all unnecessary elements and adapts only the essentials. The result is a TV that fits and matches perfectly with the room, with an elegant and slim design, which hangs flush with the wall in a simple way. To enjoy the art you only have to activate Gallery mode, which gives you access to beautiful collections of famous landscapes, paintings and stunning photographs.
A pure black that makes the rest of the colours shine
The complements this attractive and versatile design with the image quality offered by OLED technology. Its panel is composed of auto luminescent pixels that turn on and off individually, unlike LEDs, which can only turn off certain lighting areas. Thanks to this, they can represent the only pure black that makes the rest of the colours shine, with no trace of the annoying "halo" effect.
Self-lighting pixel technology allows you to enjoy, for example, a more expressive cinema with greater contrast, rich colour, textures and small details; more realistic sporting events, with movements or facial expressions, are colour changes, blur or flicker; or a more responsive pace of play, with better image quality for HDR games.
And speaking of HDR, another interesting quality of is that they are compatible with all HDR formats, including Dolby Vision, Technicolor, HDR10, HLG and HDR Converter. This way, you have the possibility to enjoy a cinematic experience when you watch movies and series in your home.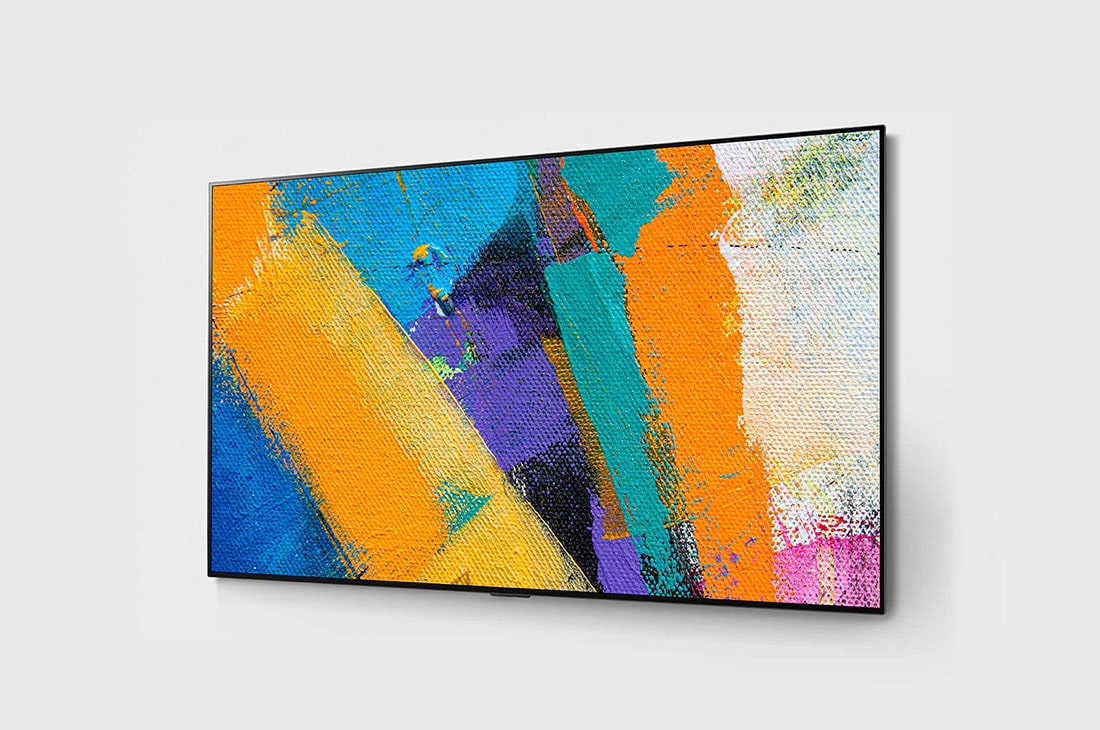 An immersive acoustic experience
Since the image isn't everything, then it also has audio equipment to match, which provides an immersive acoustic experience. Its speakers have an output power of 60 W and, thanks to Dolby Atmos technology, you'll think you're at the centre of the action.
Dolby Atmos is based on the movement of each object and positions the sound around the viewer, so you'll feel like you're inside the scene.
Intuitive and easy to use thanks to webOS
If you think a TV as advanced as this model of it's hard to use, you're wrong. LG's operating system, WebOS, is very intuitive and easy to use. It offers you all your favourite apps, such as Netflix, HBO, Disney+, Movistar or PrimeVideo, so you can enjoy your shows, series and movies with the best quality.
Also, thanks to LG's ThinQ artificial intelligence, it can become the control centre of your Smart Home. You can manage connected devices in your home in a simple, centralized and convenient way.
You can also forget about the remote control. Just say "Hello, LG" to control everything. And it offers support for Google Assistant and Amazon Alexa, so you can choose the option you prefer.
LG OLED GX, a different TV
All these qualities make a different TV and perfect for those looking for the combination of technology and style. Try it yourself and check everything it offers.