As with smart bulbs and plugs, smart locks are gaining positions like the Internet of Things equipment applied to the home. We tell you what smart locks are, compatibility, and how they work.
Smart electronic locks are gaining supporters between connected home supporters and the Internet of Things app in-home automation. If you are thinking of buying a smart lock, in this guide we tell you what they are, how they work and if they are truly safe.
Smart locks perform the same basic function as conventional locks. That is, they protect the home from intrusion and contribute to improving the convenience of use since they do not use only one physical component to operate the mechanism, but depend on other electronic components.
Smart locks won't necessarily make your home safer, but they do allow for greater access control, allowing you to set up digital keys with an expiration date so you never lose control of the number of copies of your home keys.
The smart lock complements the mechanical functions of a conventional lock by providing added connectivity in which, in many cases, the need to use a physical key is dispensed with by offering other opening options from wireless connections or electronic method.
The base of the lock is basically the same, but in many cases, the opening system is automated so that no physical key needs to be used to open the door, and alternative identification methods can be used.
This allows different forms of opening alternative to the usual with the physical key including the possibility to open the door even miles away.
The operation is very similar to that found in conventional locks, but it is based on an electronic system that keeps the door closed until the mechanism is activated and the locks are released. It's like putting in an invisible key and operating it to open the door.
In recent years conventional lock manufacturers have made great efforts to improve the security of their keys and make them more complicated to replicate. This safety concern also moves to your smart counterpart.
Data encryption systems are common for connections used in this type of product, so it is not easy to intercept these signals to play them without authorization.
One of the main concerns of users is to be seen if, if there is a blackout or any other reason, they cannot access their home because the lock has stopped working.
To avoid these situations, the locks always have a plan B for "special occasions" that is nothing more than using a conventional key with which you will not be able to access the smart functions, but also inside your house.
Types of smart lock
Each manufacturer has faced the integration of locks into a specific installation format, although they can be summarized into two main systems: replacement installation systems and complementary systems.
As the name suggests, the replacement system completely replaces the conventional door locking system so that the lock itself includes the latches and springs that will keep the door closed.
In some cases, slight modification may be necessary, such as replacing the bowl (the cylinder in which the key is inserted) to install a double-clutch one that allows a key to be used on the outside when there is one inserted inside. A relatively simple operation.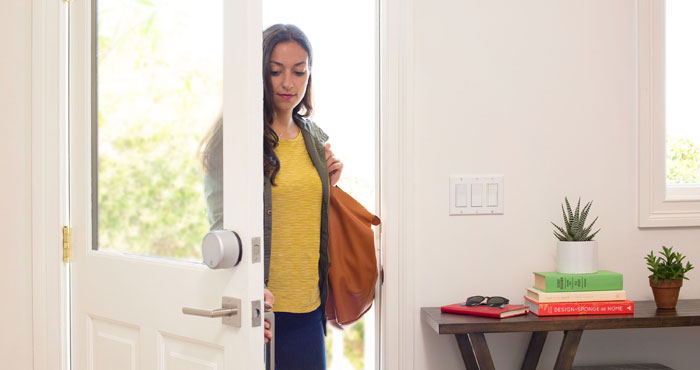 Choose the right connection protocol
Regardless of whether the smart lock is more or less complicated to install, we find different opening systems.
From fingerprint-based biometric aperture systems to those that use a security code inserted from a keyboard, via RFID proximity radio frequency in which NFC functions or those that connect to the smartphone via WiFi or Bluetooth are used.
Smart locks that connect to your smartphone via WiFi or Bluetooth are the ones that are best integrated into homes and are already the majority in the home environment because of their ease of use. In a hotel or residential environments, other more static systems such as radio frequency are used.
The wireless connection system can be of different types. There are smart locks that link to the smartphone via Bluetooth so that when the user is at a certain distance they can activate the lock, but not if they leave that Bluetooth coverage perimeter.
In fact, it is very common for the same smart lock to support different connectivity protocols, giving greater user compatibility.
Is a smart lock safe?
Security is one of the first questions that arise for users who consider switching to a smart lock. Are smart locks really safe?
Based on the basis that no locking system can guarantee 100% security, smart locks are just as secure as any traditional key lock.
It should be noted that most smart locks act as a motorized lock for a locking system identical to conventional locks. So this system offers the same security as using a manual locking system.