A news story released these days has been the update of WhatsApp policies, which will take effect from February 8, 2021, and that have already been sent to each user of this messaging platform through a notification, so that they can read and accept them.
However, this action has generated a great stir due to what is exposed in these conditions, causing users to express their nonconformity with them through social networks in which they invited others to unsubscribe from this platform and opt for the use of other messaging alternatives.
One of the most booming has been Telegram, considered by many to be one of the best messaging apps on the market, even better than WhatsApp. However, because it is not very popular, there are still people who have shown their reservations before the possibility of migrating from WhatsApp to Telegram by unaware of the functions and advantages offered by this application.
If you are one of them then keep reading and discover everything telegram brings for you, as well as the advantages that this platform presents over WhatsApp.
Data you can migrate from WhatsApp to Telegram

One of the things that can go through your mind when switching to a messaging app like Telegram is starting from scratch. While this is largely true, the good thing is that WhatsApp allows you to move some data generated on this platform to Telegram.
Contacts
Within the data linked to the messaging application, contacts are without a doubt the most important thing. Fortunately, these will not be of any concern to you when migrating from WhatsApp to Telegram.
This is because both apps are automatically synchronized with mobile contacts, which is why you won't have to perform any settings on Telegram other than following the steps shown during the setup process and granting the indicated permissions.
Chats
From a technical point of view, transferring WhatsApp chats to Telegram is an action that is not possible to carry out automatically.
However, if there's a lot of need you feel about moving your conversations to this platform and you have enough capabilities then you're likely to find it interesting to try TLImporter.
This is an unofficial tool with which you can have the possibility to import in a certain way WhatsApp chats to Telegram, although subject to a series of conditions that you will have to read before proceeding to carry out this action.
When running on pc this application launches a function that allows you to convert your WhatsApp chats into a text document that you can then have the possibility to import to Telegram. It should be noted that the result obtained is not exactly like a normal chat, although it is the closest you will find to achieve this objective.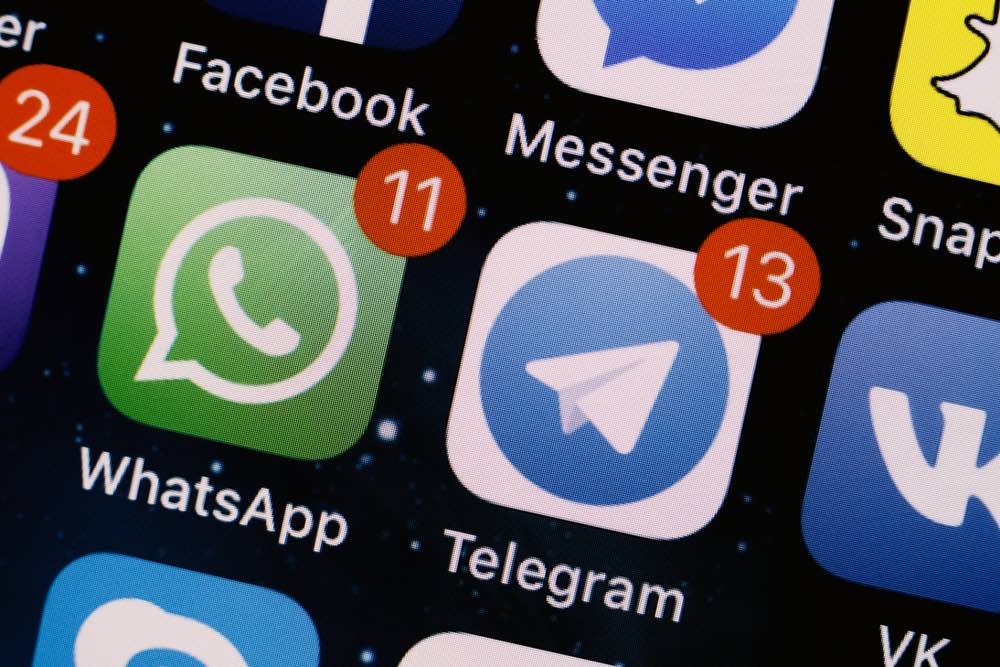 Telegram advantages over WhatsApp

Once you have successfully installed and configured Telegram on your device it is time to use it. During this process, you will notice that, although its interface has options similar to WhatsApp this platform has features that distinguish it from its rival, such as:
1 - Multi-device support
When talking about WhatsApp this messaging app only allows you to use it on one device at a time. It is in this instance that Telegram surpasses it since it is characterized by being multi-device and cross-platform.
This means that you'll be able to sign in to multiple devices and respond to conversations from all of them.
Added to this, your devices will be able to connect to Telegram directly without requiring your mobile on or connected to the app, allowing you to use the desktop version of Telegram independently, unlike WhatsApp and its WhatsApp desktop web version.
2 - Farewell to backups
Another aspect in which there are differences between WhatsApp and Telegram is when it comes to backups. In this sense, Telegram is a platform based on the cloud and not direct connections between users.
This means that all conversations you have on Telegram will be stored in the exclusive cloud that this application has, thus preventing you from backing up.
Therefore, in case you get to change your mobile, all you have to do is install Telegram on it and log in so that you can recover all your old chats in seconds.
In contrast, WhatsApp requires you to have a recent backup on Google drive in case you want to replace your mobile.
This difference is made greater when talking about its use on iOS and Android operating systems where Telegram offers no complications, while in WhatsApp keeping transferring chats from iOS to Android can become a real challenge.
3 - Hide phone number
Another feature that Telegram offers in your favour is to be able to hide your phone number from other users. On WhatsApp, accounts are linked to the phone number, which makes it visible to other users whether you have conversations privately or in a group.
And while in Telegram the accounts are kept linked to the phone number this is not necessarily shown to those who chat with you. You can control this through the privacy settings from which you can have the opportunity to turn the display of your phone number on or off.
4 - Add contacts with username only
When you add a person to your contact list on Telegram, you can do so simply with your username, an action that you can also perform. This way you can keep your phone number protected to prevent it from being seen by people with whom you do not want to share this information.
5 - Stickers
Transferring WhatsApp stickers to Telegram is a process of which unfortunately there is no magic formula to carry it out.
However, the case of Telegram these elements offer a much more dynamic behaviour, also allowing its customization. The latter through interaction with the bot stickers or also through telegram's own interface by opening a chat with @stickers.
There you can have the opportunity to create your own pack with those stickers that you use regularly. You can also choose to create a collection of the stickers you use most or add a maximum of 5 as favourites to have them at the beginning.
It should be noted that when it comes to finding new stickers Telegram offers you a wide variety of packages to choose from, being these accessible from the application itself, thus facilitating its integration compared to WhatsApp that require the Google play store to carry out its search and download.
6 - Forwarding messages with visible sender
While within WhatsApp the forwarding of normal messages has been limited to five contacts and the sending of viral messages to a single chat, in Telegram there is no limit to any of these actions.
Telegram allows you to carry out the forwarding of a message to all your contacts. Also, there are differences in the way these forwarded messages are displayed on Telegram regarding WhatsApp in which they are presented anonymously while in Telegram they indicate the name of the original contact who sent it.
It should be noted that this name is directly linked to the profile of the person who typed the original message, as long as this is set up in the privacy options.
7 - Self-destruct option for messages
Another feature that is remarkable about Telegram compared to WhatsApp is the possibility to send messages that self-destruct. Thus Telegram allows you to take advantage of this function in those cases where you want to send a message or important information assigning it the quality of self-destruction after a specific period of time that can be from a few seconds to a month.
8 - Joining groups
While WhatsApp also has the option to create groups on Telegram this function has a different function. With it in addition to having the possibility to add up to 200 different contacts you can also request to be added to groups that are of interest to you and participate in the conversation generated in them.
Also, you can choose to set as "Private" those groups where you do not want unknown people to have the possibility to apply to join.
9 - Restricted message forwarding
Another functionality associated with sending messages on Telegram is one in which you can have the possibility to select which of your contacts will be authorized to forward your messages. This, to promote chats in terms of privacy and security.
Through this option, you can also be notified at the time of numerous sending of a message or contact so that you can be alert to any spam attempt.
10 - PIN or fingerprint access
In terms of security, Telegram offers you the option to restrict other people from accessing your conversations when it has not been authorized. This through the fingerprint or pin with which only you can access your Telegram account and keep it protected from other users trying to review your conversations.
Added to this, Telegram has an option that allows you to generate a password from digits and letters to further enhance the security and privacy factors in the application.
11 - Schedule messages
Thanks to the constant improvements made in its functions Telegram has made sending messages an increasingly sophisticated action. Thus, you can now have the possibility to schedule the sending of your messages to be received by the contact at a specific time of day, something that could be very useful especially in a work environment.
In this sense, you could send a scheduled message to a person to receive after leaving a meeting.
12 - Silent messages
In the case of silent messages, which allow us to send a message to someone without them generating any sound when received so that we can use it in situations where someone is in a meeting and we must communicate with them urgently.
13 - Editing sent messages
It's amazing to think that for all the time what's been running, the edit feature isn't yet part of this messaging app. In the case of Telegram, this has the option to edit a message that has already been sent.
Simply click on it and wait for a series of options to be deployed from which you will have to click Edit to proceed to correct the error.
14 - Sending heavy files
In this area, WhatsApp provides its users with a limit of 100 MB for sending files through chats.
This figure is widely surpassed by Telegram offering you the opportunity to send files with a limit of up to 1.5 GB with which you can have the possibility to share high volume files such as images, audio, video or documents.
15 - Channels
Telegram offers you the possibility to create a one-way channel where you can carry out the publication of diverse content such as messages, images or videos. Users who team up with your channel will be able to see everything you post there, but without responding to it.
This would be similar to the broadcast lists offered by WhatsApp, with the difference that in Telegram the user may or may not have the opportunity to join the channel created by you. In this way, the channels on Telegram would come to be considered as a mixture of broadcast lists and groups.
16 - Bots to perform tasks
These elements are a great ally within the options offered by Telegram as you will be able to take advantage of them to carry out a wide variety of tasks, such as watching the latest news on the internet, reading and editing documents, downloading audio and video, etc.
It should be noted that all this can be done without the need to install anything on your device since these bots are already part of Telegram by default.
Thus, with these bots, you can have the possibility to integrate them into your chats and benefit from their functions. Just search for your bot and then follow the steps in the conversation window where you'll find the commands and instructions that will allow you to use it.
17 - Wide margin of customization of its interface
Beyond the addition of the dark mode, WhatsApp has few customization options. Telegram, on the other hand, is one of the most customizable messaging applications that exist, offering you the possibility to adjust the appearance of the entire interface.
In this sense, Telegram has 5 main themes, whose main colours you can have the opportunity to customize them. Also, in case you are not satisfied with these settings you can have the possibility to create your own theme, as well as choose the colour of the messages, the background and even define the roundness level of the corners that make up the chat bubbles.
18 - Saved messages
One aspect that is not part of Telegram is the featured messages, which if they are integrated into WhatsApp where it is allowed to mark with a star all those messages that are of interest to you.
However, even if Telegram does not have this option, the app offers a similar function with the option of saved messages. By using it you will be able to forward messages that you like to a chat with yourself.
Thus, within this chat, you will be able to store text messages as well as photos and videos so that you can access them from any device. If you forward messages from other chats, they will appear as a preview.
When you tap on them the chat will open right at the point where it was sent, just as it happens on WhatsApp in the featured messages.
Disadvantages of Telegram
With all of the above, it would be difficult to find an Achilles heel to this messaging app. However, Telegram presents the peculiarity that it does not yet allow its users to be able to make group videoconferences despite having the option of video calls as one of its most recently incorporated functions.
So you can only have the video call as an option to be used with another contact and not in a group way. This also has the advantage of being supported by end-to-end encryption technology.
Another disadvantage you might experience would be the rejection by some of your contacts to switch to this messaging app.
However, despite this detail, migrating from WhatsApp to Telegram remains one of the most successful decisions. This, taking into account everything that this messaging application has to offer you and make your conversations on this platform a more optimal and secure experience for both sending messages and other tasks that you can carry out.