It's something similar to what we saw in the Amazon Echo Show 10 that we already analyzed, although with a substantially lower size and price.
Design and materials
Amazon has kept the design of this speaker from the previous generation, and we don't see it as a problem. We can integrate it into almost any home thanks to its colors, black and white, although the latter we like better because it camouflages the camera.
We have physical buttons for volume, turn off the microphone, and hide the camera, for those who want more privacy.
In addition, this Echo Show 8 has four microphones, which helps accuracy when listening to our voice. In this Alexa is much better than the Google assistant.
Speaker and display functions
This device has been designed to be used as a speaker and listen to music, for which it implements two 52 mm speakers, practically the same as those of the previous generation.
Unlike the Amazon Echo Show 10, they don't have a tweeter, but it still provides a loud and clear sound capable of filling a medium-sized room, even a normal lounge.
The screen has also not changed in resolution or size, keeping the 8 inches with 1280 x 800 px. Of course, now there is a color adjustment and when there is little light we will not have the tones as cold as before, making its use more pleasant.
Of course, the screen is touch and allows us to interact with the interface, which is the same as in the other Echo models with the screen.
Using Alexa as usual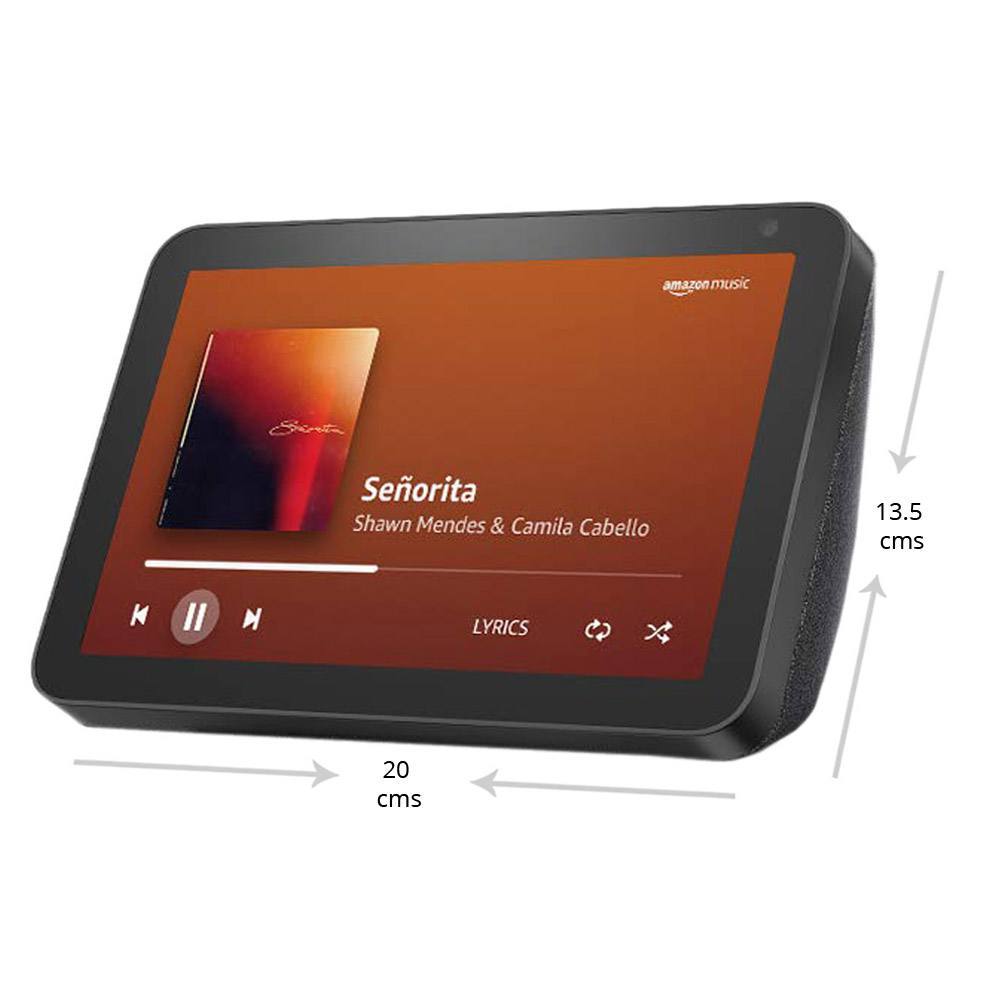 There are no changes in the daily use we can make of Alexa, either through the touch interface or by voice. We can control home automation, put music, watch series on Netflix or Amazon Prime Video, for example...
We can also learn to cook with recipes or use apps for the little ones, who teach them languages, games, etc.
A camera to call and monitor
One of the biggest jumps from the previous generation is the camera. We have a new sensor of 13 Mpx, the same one we saw in the Echo Show 10, which allows us to have a much higher resolution in video calls and, in addition, allows us to frame the image automatically without losing quality. This is especially useful when we are moving around in a room because we are cooking, or performing some task.
The other new feature that debuts this camera is video surveillance. We will be able to access what the speaker sees through the Alexa application that we can install on our mobile.
Of course, there will be no warning notifications so more than a security camera is suitable to control pets, children, etc.
conclusion
This Amazon Echo Show 8 goes on sale for 129.99 euros, a price is slightly higher than that of its immediate competitor, the Google Nest Hub 2 that we analyzed recently.
Amazon has opted for much less eye-catching but much more useful functions. The camera allows you to monitor the house and make video calls and, although we do not have a record of sleep or control by gestures, it seems to us a more practical alternative in the day-to-day.
This Show 8 will be the default option in those rooms where we want a screen or a camera.