Even though it's a joke, maybe, one day, Riot makes this idea come true.
The Truth Arena game mode is gradually becoming an independent game and even, there are small but professional tournaments and there are prizes as well as a high number of registered gamers. Therefore, Riot is constantly looking for ways to make this game mode attract more and more players.
Recently, on his personal page, Riot Mortdog - the chief engineer of the DTCL project posted a tweet that attracted great attention to the gaming community of this mode game. Specifically, according to Riot Mortdog, they are testing a new mechanism called: The Sustainability of Generals. Accordingly, Riot prepares to launch a version called Breath in the Wild, and in it, every time a piece is used in a fight, the chess piece will lose its sustainability and if used 4 times, the player will lose it permanently.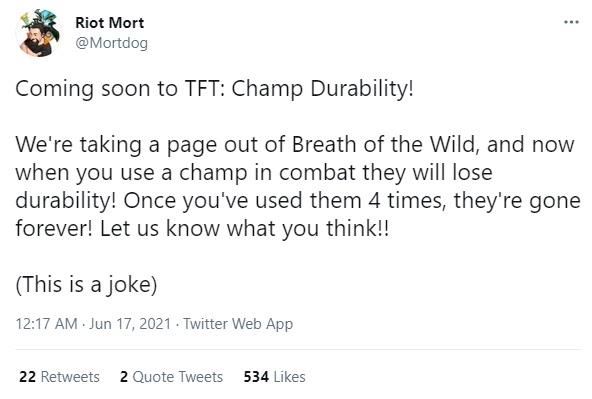 A joking tweet about riot Mortdog's new game engine called The Sustainability of Chess Pieces attracted huge attention from the gaming community
However, at the end of the post, Riot Mortdog also noted that it was a joke but this idea has received a lot of appetite from the DCL gaming community. The vast majority of opinions say that, if this idea comes true, it will be the solution for gamers to keep spamming a type of squad, in addition, this type of game will improve the skills of gamers, force them to brainstorm more as well as observe opponents all the time.

It sounds like an interesting game mechanism if hyper-roll is used alternately. There will be more formations, so that the 2-star generals so that at the end of the game, rotate the generals to suit the teams, etc.

It will be a very interesting game mode for the DCL
Many people also think that this game mode will be able to be applied in the future but in the form of another game mode or according to a special event.

But I think it's going to be hard to apply that style of play at the moment. This idea should be a new gameplay mechanism for a separate game mode (or game) in the future
The fact that gamers put their trust in the new mechanism will one day come true from the fact that recently, the Ultimate Magic Book mode has been tested by Riot and brought a lot of excitement to the LMHT player community. In particular, one even saw Riot August's familiar joke about combining Jhin and Xin Zhao that could not have been more "muddy".
Knowing if the new mechanism will be applied but surely, Riot will always seek to bring new surprises to his community of players, just in a positive way or other versions of "200 years of gaming experience".