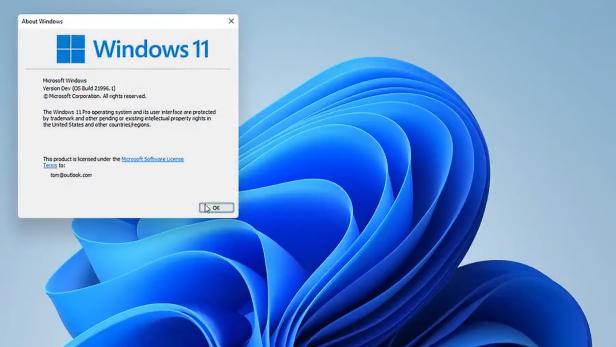 A pre-release version of Windows 11 has been leaked and reveals many details of the upcoming Microsoft operating system.
Just over a week before Windows 11 is officially presented to Microsoft, more or less everything about the new operating system has been leaked. Screenshots were first posted on the Chinese social media platform Baidu on Tuesday, and shortly afterward even an ISO of the new operating system leaked out, which can be installed. Tom Warren from The Verge, for example, did this and brought some details of Windows 11 to light.
The most noticeable visual change can be found on the Taskbar. Microsoft has decided to center the elements by default and design a new start button. The start menu itself has also been redesigned and centered. At the top are the pinned programs, including the "recommended" elements – i.e. first and foremost often used files and folders. The Live Tiles or tiles have completely disappeared in this version.
There is good news for those who can't make friends with the central design. Thus, the start button including icons can also be moved to the left edge of the screen - i.e. its usual place from Windows 10 and earlier versions.
Corners and widgets
It is also noticeable that Microsoft increasingly relies on rounded corners for the start menu as well as for the windows. This little thing generally gives the interface a fresh look.
In Windows 11, many things of the discontinued Windows 10X should have been incorporated. This system should actually be tailored for use on dual-screen devices. Now Microsoft has obviously decided to integrate the corresponding functions into the main Windows. This has made it easier to arrange windows on the desktop.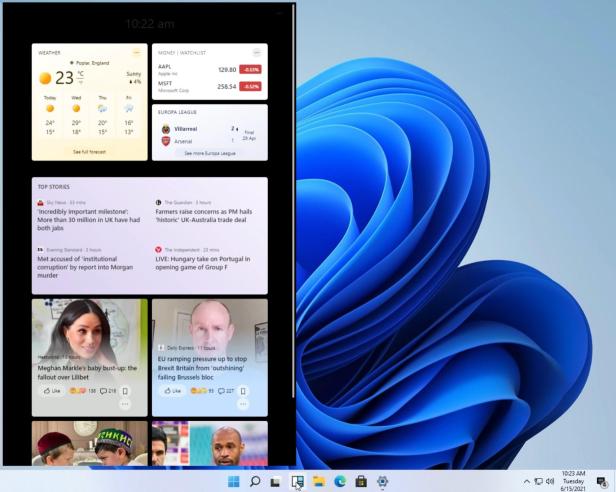 In the taskbar, there is also a new button called "Widgets". So Microsoft is bringing weather or news widgets back to the desktop.
Some may remember that a similar feature was introduced many years ago with Windows Vista. In the following versions Windows 8 and 10, however, the "Desktop Gadgets" were removed again. Microsoft justified this, among other things, by saying that they would pose a security risk.
New startup sound
Also not unimportant: Windows 11 comes with a new, characteristic startup tone:
Free update
The leaked image is not the finished operating system, but an early version of Windows 11. According to Warren, "but it feels very finished." He, therefore, speculates that it could soon be released for Microsoft's beta testers as part of the "Windows Insider" program.
In general, it can be assumed that Windows 11 will be offered as a free update for all Windows 10 users in the future.
Microsoft itself has announced a Windows event for Thursday, June 24, where Windows 11 will be officially unveiled. The event starts at 17:00 CEST, the future zone will report live.