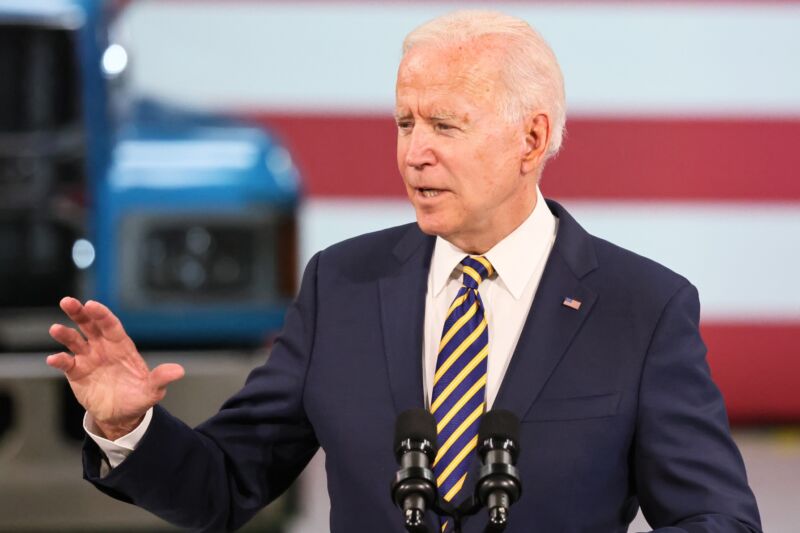 A bipartisan infrastructure deal will provide $65 billion for broadband deployment and require ISPs that receive funding "to offer a low-cost affordable plan," the White House said today.
President Joe Biden pledged early in his term to lower Internet prices, and this appears to be the first tangible result—although it will only affect ISPs that take the new funding, and the White House didn't release key details about the affordable Internet plans. A White House fact sheet on the $550 billion infrastructure deal with senators included two paragraphs summarizing the broadband portions:
[M]ore than 30 million Americans live in areas where there is no broadband infrastructure that provides minimally acceptable speeds—a particular problem in rural communities throughout the country. The deal's $65 billion investment ensures every American has access to reliable high-speed Internet with a historic investment in broadband infrastructure deployment, just as the federal government made a historic effort to provide electricity to every American nearly one hundred years ago.

The bill will also help lower prices for Internet service by requiring funding recipients to offer a low-cost affordable plan, by creating price transparency and helping families comparison shop, and by boosting competition in areas where existing providers aren't providing adequate service. It will also help close the digital divide by passing the Digital Equity Act, ending digital redlining, and creating a permanent program to help more low-income households access the Internet.
"Low-cost" definition not released yet
The announcement didn't say what speeds or prices will have to be offered by government-funded ISPs in the required low-cost plans. It also didn't say whether those low-cost plans would be available to all customers or only those who meet certain income requirements.
Read 13 remaining paragraphs | Comments