Titanfall players hacked another game of Respawn, Apex Legends, to announce that they were tired of cheaters in the game. The community message reacting to Respawn remained in play for a long time. The developers explained that the game was played without problems.
Titanfall fans hacked Apex Legends to capture the work of the game's developer, Respawn, and a complaint was posted. Thousands of players who logged into Apex Legends via PC were confronted with a window showing a link called "savetitanfall.com" instead of the screenshot that was available.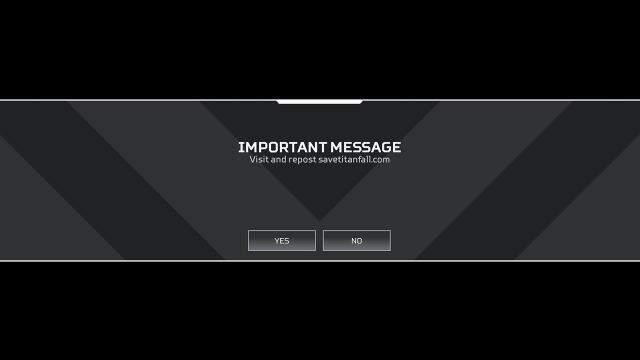 "WE HAVE NOT RECEIVED A RETURN FROM RESPAWN FOR 3 YEARS"
When you log in to the site that is written on the screen, we see a message with a reaction to respawn from the players. In a statement on the website
"Titanfall is a series beloved by many players, and cheaters in the game are increasing. The Titanfall community has been complaining to Respawn about this for more than three years but has not received a return. Today the game is still being sold but is not playable. It's time to talk," the statement said.
TITANFALL 1 PLAYERS WANT THEIR STORIES BLOCKED
Titanfall 1 said on the PC platform that the game had become completely unplayable due to cheaters, and this problem persisted for years. The players say the Titanfall community has been complaining to Respawn about these situations for three years, but they have received no feedback. Developer Respawn has yet to make an official statement. Also, the hacked window of Apex Legends has not yet been fixed.