OnePlus ceased to be a brand that focused on a single product. For years now it has been launching several high-end models each year, and it has also been offering mid-range and entry-level terminals for some time now.
Even their foray into headphones and accessories isn't new, but it's new that they get into the fight in the high-end segment.
Well, let's clarify, an affordable high-end, that we are not talking about headphones that cost 400 or 500 euros. The OnePlus Buds Pro was announced in July and is now available for pre-order.
The company's proposal is clear: good quality headphones, great sound, active noise cancellation, and with everything you can ask for in battery: autonomy, fast charging, and wireless charging.
Features OnePlus Buds Pro
Calls
Noise cancellation for the microphone.

Three microphones.

Adaptive noise cancellation.
Connectivity
Bluetooth 5.2.

Connectivity radius of 10m.
Load
USB.

Qi wireless charging.

Compatible with Warp Charge fast charging.
Autonomy
Up to 38 hours with the case.

10 Minutes of charging offering 10 hours of autonomy.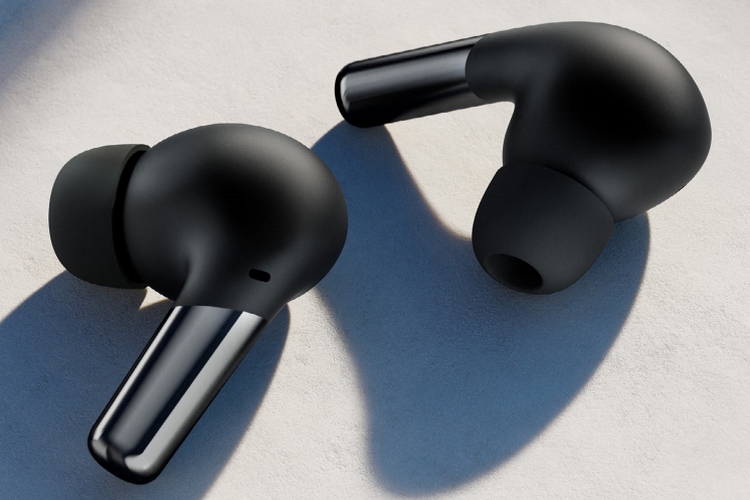 A similar and different design to the AirPods Pro
Visually the OnePlus Buds Pro is reminiscent of Apple's most popular headphones among the geekiest. We have an element that is inserted into the ear that has a pad that can be separated. In the box, we have several to adapt to our profile.
The touch is very striking, very soft, and far from the plastic used in most products of this type. That's in the black model, which uses a matte touch. The white model is bright and loses this effect, looking more like a copy of the Apple model.
The charging box, which is the case where the headphones are stored, has a comfortable shape to store in the pocket, and a correct opening and closing, with one caveat.
The hinge of the box makes many whole the feeling of quality in the construction when we use it. The reason is that it doesn't look solid, reminding us more of the 20 or 30 euro models of rival companies of OnePlus than the 100 or 150 euro models against which it competes.
It may be a failure of our unity, but it is striking enough for us to echo in the analysis.
Sound quality
Although we will talk more in detail in the section of the application we must highlight in this analysis the ability of the OnePlus Buds Pro to adapt to our way of listening.
This means that if we need to raise the bass a little, or the treble because we do not hear the same as another person, the mobile connection application allows you to edit this.
And yes, it shows when listening to music especially, not so much in podcats or calls.
The maximum sound is high enough that you don't want to use it, and still, it hasn't gotten to distort.
Good noise cancellation, but not the best
As we told you at the time, not all noise cancellations are the same. These headphones have ANC, i.e. active noise cancellation.
We can't deny that activating it shows a noticeable drop in ambient noise, but it's not as spectacular as in the OPPO or Sony models. It looks more like what is seen in somewhat cheaper headphones.
And yet the company boasts of being able to cancel no less than 40 dB, a not inconsiderable figure. In our tests we have seen how noises such as air conditioning are canceled out very correctly, but not so much that of the keys when typing or that of the television.
Of course, we are talking about cancellation without music. If you activate any audio the effect is greater, as is normal, but some sounds are still sneaking in.
In addition, it is appreciated that in addition to being able to activate it to the maximum or remove it, we can use the transparency mode and an adaptive function, which adjusts the noise cancellation to our environment.
Press instead of press
In recent months I've analyzed many headphones from different brands and yet these are the first ones that force me to pinch to execute a gesture.
We can't activate the functions directly with a simple tap on the headset, and I personally found it much more uncomfortable than on other models. I know it's the way Apple has designed its AirPods, but I personally see it as a step backward.
It is missing the possibility of changing the volume by sliding through the lower cane, something that some models of this price already allow, although it is still something more typical of the headphones of more than 200 euros.
In addition, the settings of one pinch (to pause/play) and two (to move to the next song) are not editable and only the triple pinch allows you to choose between the Previous song and Voice Assistant on each of the two headphones.
In this price range, these types of absences are not understood as much as in cheaper models. Although few use these functions.
What has worked perfectly is the use detection, which pauses the music or what we are listening to when we remove the headphones from the ears.
We have been surprised by the control application
As happens in all headphones of this type, the OnePlus Buds Pro have settings and control application that is installed on our mobile. It is not mandatory to use it, but it is more than convenient if we want to squeeze the most out of the product.
In the case of OnePlus the app is Hey Melody, a program that we have talked about before and that also serves to control the OPPO headphones.
On this occasion, however, we have seen more than remarkable developments.
To begin with, we can measure the hearing capacity to enhance certain frequencies of sounds, independently in both ears.
We can also see if the sealing is correct with one type or another of pads to choose the most convenient of the ones that come in the sale package.
Along with these two functions stands out the Zen mode, which is nothing more than the reproduction of white noise, perfect to rest or concentrate. We can emulate that we are listening to a bonfire, the beach, or various relaxing environments.
We have noticed that the sound in this mode is cut if we do not leave the app in the foreground, but it is possible to save the sounds in the headphones and solve this inconvenience.
What does not convince us is the way to activate it, with a very long press on a headset that sometimes is not detected well.
In drums, they stand out, in every way
One of the best aspects of these headphones is autonomy. The brand promises up to 38 hours of autonomy, although it obviously depends on whether we use cancellation or not, whether we listen to music or talk and volume.
But we must also talk about the Warp Charge fast charging, which allows us to have up to 10 hours of music with only 10 minutes of charging, something critical if you are one of those who are often without battery and forget to charge the headphones.
And to round off the move, qi wireless charging. It's not particularly fast, but it helps and is very comfortable to get used to leaving the headphones on a charger on the table when needed.