Huawei has been a very important company in Spain. It arrived almost as a manufacturer for operators and became over the years a benchmark that overshadowed Samsung itself. Until the veto came.
Since the United States banned the collaboration of this brand with the firms of that country Huawei has lived difficult times.
The biggest drawback of this veto is the one seen in this tablet, a Huawei MatePad 11 and 11 Pro that were presented in June of this year.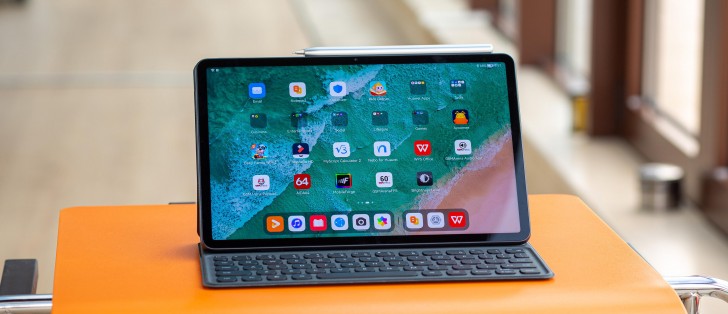 Features Huawei MatePad 11
Processor and memory
Processor: Snapdragon 865.
Memoria RAM: 6 GB.
Internal storage: 64 / 128 GB.
Screen
Size: 10.95 inches.
Resolution: 2560 x 1600 pixels.
Technology: IPS 540 nits.
Refresh rate: 120 Hz.
Connectivity
Bluetooth 5.2.
WiFi 6.
FM Radio.
GPS.
Other
USB-C port.
Support for M-Pencil stylus.
Dimensions and weight
Dimensions: 253.8 x 165.3 x 7.25 mm
Weight: 485 g.
Great performance
There is no doubt that Huawei knows how to build hardware. We have seen it with watches, we have seen it with mobile phones and computers. And with tablets.
The notepad 11 is a high-end tablet, not ultra-high, and that shows in the construction and materials. It has details that make it stand out from the competition, as we will see in the next section, but in general, we can say that it is not a cheap tablet, although it does not seem so either.
The design is not risky and gives all the importance to the screen, as it has to be.
It is true that being a high-end device, details such as the headphone jack are missing. Of course, at least we have memory expansion, which in the 64 GB model could be important if we use it a lot to work with heavy files or to use very large games.
Of the cameras we will not say much because they are there almost in a testimonial way, to be able to use video call applications or take an occasional photo, but not in jest to use them as we use those of our mobiles.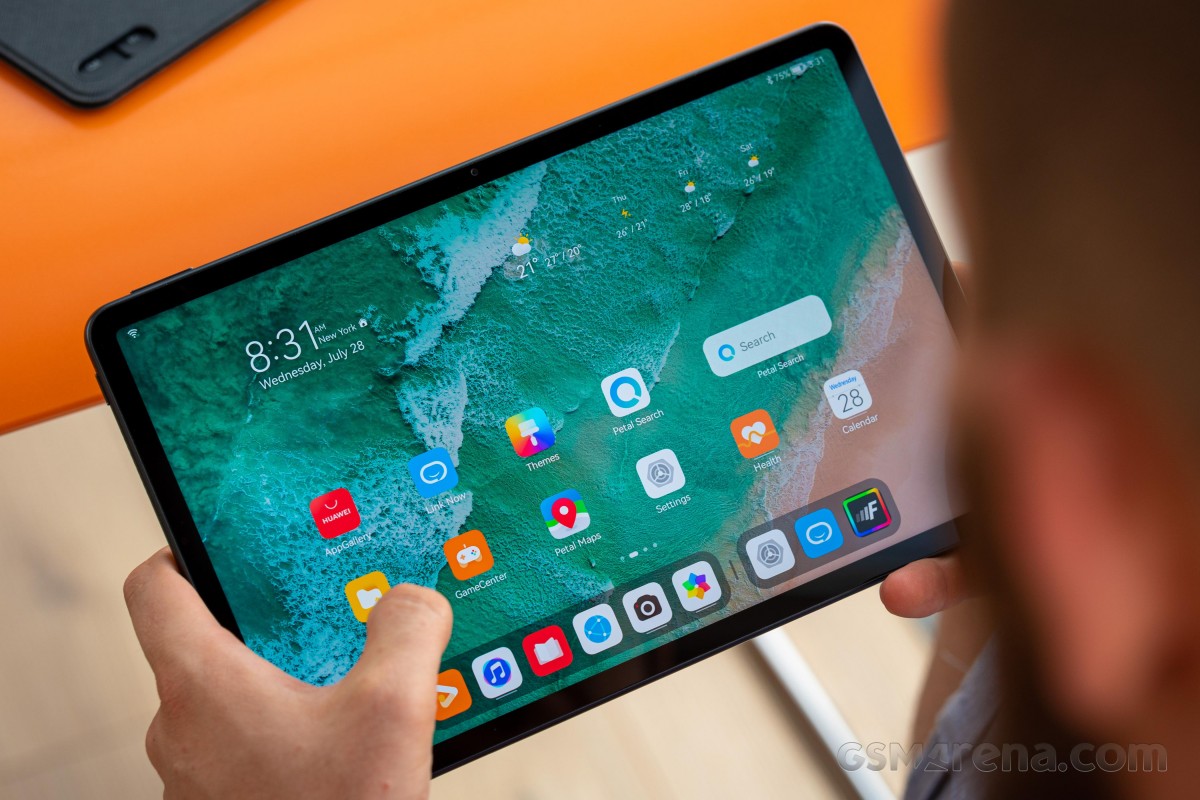 Designed for multimedia
We said that this model stood out above the competition in some aspects. One of them is the sound and is that putting four speakers makes it a delight not only to watch videos on it but even to listen to music.
On occasion I have used it above the speaker system I had in the room.
Another element that our senses focus on is the screen. We are talking about a 10.95-inch IPS panel with 2560 x 1600 pixels resolution. Indeed, it is not an OLED screen, but many of the highest-level tablets use this type of panel.
The density of dots per inch is high enough to give us outstanding sharpness.
In addition, we are facing a screen with a refresh rate of 120 Hz, which is not usually seen in this price range.
The colors are well-calibrated, although they are not as intense as in models with organic panels. The brightness is not a problem because this type of device is designed to be used indoors and, if we use them outside, it will usually be in the shade.
The screen response is also very correct, and the software helps to squeeze the size.
Forget anything that has to do with Google
Huawei is struggling to create a very strong ecosystem around Harmony OS, one that we were able to test and liked, but that is far from consolidating in the short or medium term.
We say this because the biggest drawback of the tablet, which we mention in the title, is the absence of Google services and applications.
I have tried to use the tablet as I use my mobile, for the same things and some more, but I have run into the Wall of Google. Not being able to easily install services like Gmail or Google Drive means I have to readapt my workflow.
Even the Twitter client I use, Flamingo, can't be installed, so I have to opt for the native Twitter one, which has an interface that doesn't fit tablets and also includes more advertising than I'd like.
It's a shame because Harmony has become a very fluid system, that exploits the use of the tablet in conjunction with other devices such as mobiles or computers, and that, along with the keyboard and pencil, gets enough versatility to be an alternative to Android if it weren't for the problem with applications.
I installed the Amazon store, the AppStore, to use games like HearthStone, but others like Honkai Impact Third were not there, and even if I could have installed them I wouldn't have been able to log in since I use Google Play Games for it.
In addition, there are applications such as Netflix that have to be installed from other sources, and although the system gives us options for it, we are not sure of the security that the Play Store usually gives.
Autonomy is not a problem
As for the battery, we have a 7250 mAh battery with a fast charge of 22.5 W. The tablet lets us be without charging it between two and three days, depending on the use we make of it.
Important accessories
I have been able to analyze this tablet along with two accessories that give it a lot of versatility.
On the one hand is the stylus, which charges wirelessly by putting it on the side of the tablet. This pen enables drawing functions and also handwriting recognition.
The problem is that we have seen that it does not always recognize the text as well as we would like and there is a somewhat frustrating function. This is the option to use the pen to fill in text fields in a normal interface. It should help, but on too many occasions it ends up annoying.
On the other hand, we have the keyboard, which connects magnetically and, like the pen, uses Bluetooth to pair with the device. Unlike the first, the operation is very good, the typing speed very achieved and the quality of the keys and their travel very decent for a keyboard of very contained size.
Of course, we do not have ñ or an area for the trackpad, something that we would have liked but we understand that there is not.
Huawei aspires to a market that we do not know if it exists
The price of this tablet is between 399 euros for the 64 GB memory model and 499 for the 128 GB model. They are not very high prices if we compare them with the iPad, for example, but they are much higher figures than other tablets, such as Amazon's Fire.
And you will say, rightly, that this Huawei tablet is much better. And it's true. The problem is that there is currently no major market for Android tablets.
If we look at the hardware, the price that Huawei asks for is more than reasonable, and includes compatibility with a decent keyboard and a pen or tic, although you have to buy them separately.
But those who need that kind of productivity look at certain very specific models. Huawei has specialized in recent years in a generalist market, which uses the tablet to watch videos, make video calls, etc. My father has a Huawei tablet and is delighted. But it costs half that it does and it does have Google services.