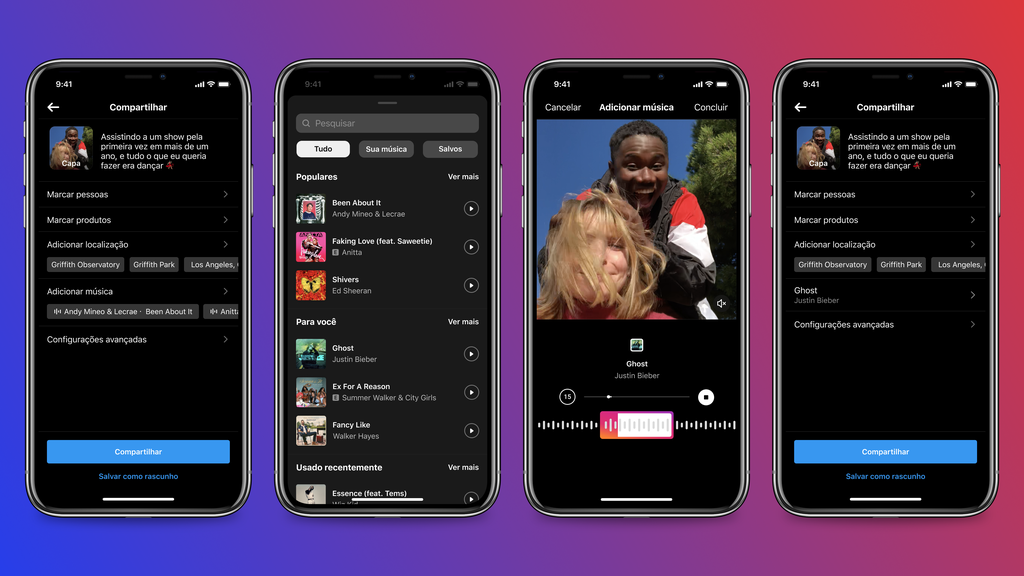 The Instagram test feature allows you to include music in posts published in the feed. This was a reality in the formats of Stories and Reels, but it had never landed on the most traditional publications on the social network. In this initial phase, only three countries will be covered: Brazil, India, and Turkey, three of the company's largest markets.
Users will be able to browse music clips in the app's trending sections or search for specific songs. When using the gimmick, the song title will appear in the feed post header and, when clicked, will guide the person to a special page containing all the posts that have used that song recently.
The mechanics of inserting the desired sound should be similar to what already exists in other formats: the person chooses the duration of the clip and how long the audio will play. Then, the person must choose which part of the song will be added and then just published. It is noteworthy that the novelty will not work for publications in the carousel format, only for single photo posts.
More than just music sounds in the feed can open up new future possibilities for content creators to creatively explore one of the most crucial — and abandoned by developers — areas of the platform. It will be possible to match images, subtitles, and soundtracks to create a more immersive experience in posts.
How do I insert songs into posts in the feed?
Follow the tutorial below to start publishing with your favorite songs:
Select a photo and, in the last step, click on "Add Music";

Search for a singer, band, or song in the "Search" field or browse the hot songs in the "Trends" or "For you" sections;

Select the song you want to add to your photo;

You will be able to select the excerpt and up to 90 seconds of the song to include in the Feed post;

Click "Done" and then "Share."
Resource in the testing phase
As this is something in the testing phase, it is possible that not everyone will receive the novelty at this time or it will take a few days to have it working. Still, it is possible that there will be some difficulty in this beginning, at least until the developers fix all the flaws. If you weren't one of the winners, the only thing to do is update the app and hope to receive it or wait patiently for the broad release for everyone.
On Tuesday (16), the platform announced a video selfie mechanism to block children's entry and prevent the proliferation of fake profiles on the network. But the proposed algorithm, still in the experimental phase, proved to be quite uncalibrated when it was "deceived" by a Barbie doll.